Ethiopia: Ethiopia's Ambassador to the Republic of Côte d'Ivoire, Shitaye Minale, presented her letters of credence to President Alassane Dramane Ouattara in a ceremony held at the Presidential Palace on December 21, 2022.
At the occasion, Ambassador Shitaye conveyed the greetings and best wishes of the President of the Federal Democratic Republic of Ethiopia, Sahle-Work Zewde, to the Ivorian President.
She also underscored the long-standing and historical relations between the two countries and pledged to work towards the consolidation and strengthening of these bilateral ties in all areas with renewed vigour.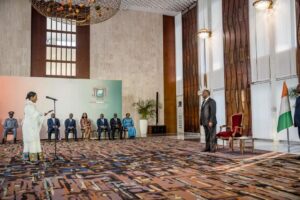 President Alassane Ouattara, for his part, extended his heartfelt congratulations on the appointment of Ambassador Shitaye and welcomed her to Côte d'Ivoire. He also expressed his gratitude for the goodwill wishes of President Sahle-Work Zewde and the people of Ethiopia, which he reciprocated.
While stressing the need to work to strengthen and diversify the excellent bilateral relations, President Ouattara reaffirmed his country's determination to augment the bilateral relations through the exploration of areas that have hitherto remained little exploited, including the economic, industrial, agricultural, and tourism sectors.
The President finally wished Ambassador Shitaye a successful tour of duty, pledging the availability of Ivorian Government to extend all necessary support to the Ambassador.