South Sudan, Bentiu: Saturday, 14th January 2023, Governor Lt. Gen. Dr Joseph Manytuil Wejang on Saturday participated in the graduation ceremony of 3610 Necessary Unified Force at Bentiu Independence Stadium.
The forces were under training at Kaljaak training Centre as required by chapter two of the Revitalized Peace agreement 2018. The forces comprised Police, Civil Defense, Wildlife and Correctional Services.
Speaking at the event, the Presidential Advisor for National Security Affairs and Chairperson of the Transitional Security arrangement committee, Tut Gatluak Manime, said the leadership is committed to expediting the commissioning and deployment of forces to take up their roles.
---
---
Governor Dr Joseph Manytuil Wejang appreciated the Graduating cadets for enduring the hardship at the Training Centre and acknowledged their extraordinary firms stand with the people of Unity State during this critical situation of flood.
He also stressed the importance of working together as leaders from Unity State both at the National and State levels to provide assistance to the flood victims. Governor Manytuil further calls upon leaders politicians of Unity State working in the National government to pay a courtesy call to Unity State, and interact with affected populations and also acquaint themselves with their challenges.
On her part, the Minister of Defense and Veteran Affairs, Hon. Angelina Teny calls on the Unified Force to uphold its constitutional mandate to enforce laws and orders across the country.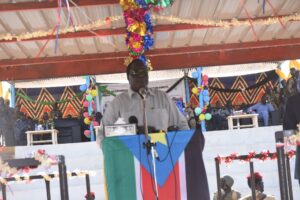 The Minister of Interior, Hon. Mahmoud Solomon Agok reminded the Unified Forces to maintain the spirit of nationalism to protect civilians and their properties without discrimination.
The graduation ceremony was attended by the Chief of Defense Forces of SSPDF, Gen. Santino Deng Wol, Inspector General of Police, Gen. Majak Akech Malok and members of the Joint transitional Security arrangement committee, plus State government officials and members of the Diplomatic corps and UNMISS Bentiu Field Officials.