Botswana: In the ongoing Operation Kgomokhumo in the Southern and northern parts of the country of Southern Africa, police operatives have arrested nine (9) suspects in connection with the possession of carcasses of suspected stolen cattle and donkey biltong.
In , two (2) men from the same village were arrested by Kgomokhumo operatives after they were found in possession of Biltong and cooked meat of a suspected stolen donkey.
The duo, Nfafatso Pitsa, aged 29 (Twenty Nine) and Mosimanegape Katholo, aged 43 (Forthy Three), were arrested at Serotswane Cattlepost on Monday (13/06/23) after they were found in possession of Biltong and cooked meat of a suspected stolen donkey.
The accused persons appeared before Lehoko Customary Court yesterday (15/06/23), taking one count of Stealing Stock, and will be back in Court on 28 June 2023.
Meanwhile, up north, seven (7) suspects aged between 23 and 37 appeared before Francistown Stock Magistrate Court this morning (16/06/23), facing a single count of Stalling Stock.
According to a charge sheet read before Court, the suspects on or between the 13 and 14 June 2023 at Chadibe Village near Francistown, acting jointly with a common purpose, stole two (2) cows. The accused persons were arrested by Kigomokhumo operatives in the City of Francistown, Chadbe and Jackalas No two villages after they were found in possession of suspected stock produce.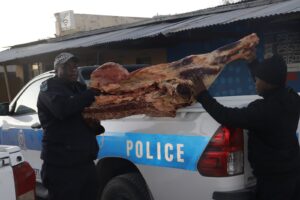 Part of the stolen produce, mainly hides, heads and hoofs, were excavated from the Shashe River in Chadibe. The suspects are Gorata Jairosi, a 37-year old Director of Dianamic Butchery at Selepa in Francistown, Tanaka Mantsaye and Odinle Bathatswi, both of Bluetown, Kaone Phama of Area L. Nkosiyazi Meuni and Siphamandle Sibanda bath of Barolong village and Kegagile Modise Gregory of Jackalas No.2.
The accused persons will appear again before Court on 19 June 2023. As per the local residents, the suspects look so innocent, and it's hard to consider them criminals.
Image credit: Botswana Facebook page