Botswana, Francistown: The Francistown Assistant Minister of Youth, Gender, Sport and Culture Minister Honest Buti Billy officiated the ground breaking ceremony of the Multipurpose Hub Grounds in Francistown on Thursday.
When delivering his officiation address, Minister Billy said the event was a historic moment in the implementation of the Ministry of Youth, Gender, Sport, & Culture mandate marking the commencement of major projects which could potentially transform Francistown's architectural landscape.
He said the project will significantly provide the necessary economic stimulus in the Francistown economy to effectively address the major problems affecting the youth, artists and vulnerable men & women.
Minister Billy mentioned that the state of affairs in the country had exacerbated youth challenges such as youth living in the streets, Out of School and Unemployed Youth; Youth in Violent Situations, Youth in Child Labour, Youth Sex Workers, Youth illiteracy, Juvenile Delinquency, Adolescent Care Givers, Youth in Crime and Alcohol & Substance Abuse among the Youth.
He explained that the Multipurpose Hub should be identified as part of the reset agenda; hence the need to have a multifaceted approach, mindset change as well as more robust strategies which can be applied in the shortest possible time to keep up with the current rapid changes were required.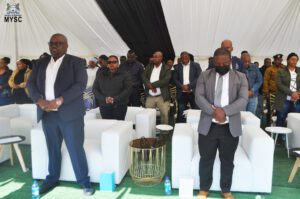 Minister Billy highlighted to the attendees that the 11.5 hectares of land will be a centre where different activities will take place as described in its name 'multipurpose'. The initiation of the multipurpose hub ground will help by creating employment and also bring developments to the city of Francistown post covid19.
The Ministry engaged and consulted stakeholders about the challenges the youth is facing, and the hub is a response or possible solution to the challenges that were identified; hence it will also help in stimulating the economy and reduce the poverty rate among the youth in Botswana.