Bentiu, South Sudan: Governor Dr Joseph Manytuil Wejang on Sunday met in the Thoan IDPs camp with the Youth of Guit County to listen to their grievances and uncertain situations that resulted in clashes with the Youth of Rubkona County a couple of days ago.
The meeting aims to address the root cause of conflict between Jikany and Leek Youth and advise the youth to refrain from divisive communal lines derived from the land dispute day after he listens to the views and grievances on the same issue from Leek Youth.
Governor Dr Joseph Manytuil Wejang congratulated the youth and the entire Jikany Community residing in Bieh Yam Chap and Thoan IDPs camp for the continued support to the State government and on the flood mitigation, Especially on the recent extraordinary reception to our national leaders who officiated the graduation of Necessary Unified Force on 14th January 2023.
---
---
Manytuil also congratulated the women, most importantly, the mothers who restlessly work day and night to get food for their children and to go to school.
The Governor urged Jikany youth to distance themselves from revenge killing and conflict that won't yield any fruitful result and added that the State government would squarely support the Jikany Peace conference aiming to enhance promoting peaceful coexistence among the people of Guit County.
Manytuil stressed that the people of Leek and Jikany are a sisterly Community who have been together for so long and cannot be separated by simple differences that need to be resolved peacefully without involving violence.
Governor Dr Joseph Manytuil Wejang also promised that the food items would arrive in a few days for distribution to IDPs right after the completion of the Bentiu-Unity road renovation.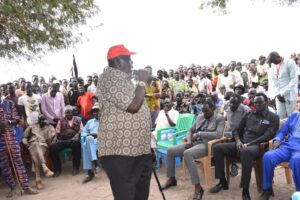 Saliman Ben Riek, Member of the Peace and Conflicts Resolution Commission, said the entire Jikany Community will continue their support and rally behind the leadership of Dr Joseph Manytuil Wejang for his firm stand with the people of Guit County during the critical situation of flood.
Salima raised that the people of Jikany Community would not forget the leadership of Dr Joseph Manytuil Wejang, who tirelessly protected them from the flood by constructing dykes around Thoan and Bieh Yam Chap IDPs camps and providing relief assistance to those affected by flood across Guit County.
In attendance were government dignitaries from Guit County, including State Minister of Information and Communication Hon Gai Jiejor Ngueny and others.
Image credit: Office of the Governor Facebook Page