Kenya: Corporate citizenship implores entities to undertake actions to protect the environment and people, as well as take measures to offset their carbon footprint to ensure environmental sustainability.
It is along this premise that the Ag. Chief Conservator of Forests Alex Lemarkoko has hosted a team from the 748 Air Services Limited led by Chief Executive Officer Moses Mwangi. The two leaders have agreed to collaborate towards enabling 748 Air Services to embark on a journey toward carbon neutrality through forest conservation and tree growing.
Lemarkoko said the initiative by the airline had multiple areas of convergence with the Service mandate and the Government's priorities in increasing tree cover to 30% by the year 2032, as well as the Constitutional provision for a safe and clean environment.
748 Air Service is keen to lower its carbon footprint, and as a result of sustained and measurable efforts, the entity has achieved a 15% reduction in emissions for the year 2022. Mwangi said that his company has engaged and collaborated with several partners toward offsetting the corporate's carbon footprint. He added that his company is keen to undertake carbon offsetting initiatives in virgin, untapped forest areas.
A technical team comprising KFS and 748 Air Services staff was subsequently constituted to deliver the collaboration processes and frameworks within a limited time period to allow the rolling out of the intervention approaches.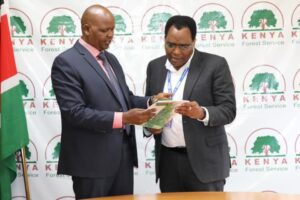 Lemarkoko urged the team to move with speed and explore holistic approaches for critical intervention areas, providing permanence and devoid of possible leakages where activity in a certain area would transfer an environmental challenge to the neighbouring ecosystems.
Lemarkoko was joined in the inception meeting by County Forest Liaison and Advisory Beatrice Mbula, Ag. Manager Forest Survey and Information Management Dr Benjamin Kinyili, and the Head Climate Change George Tarus, among other senior officers.
The 748 Air Services team accompanying Mwangi comprised the Commercial Director, Rashid Abdi, Head of Quality, Safety, Security and Environment, Maurice Juma, and Environmental Manager, George Oduor.