Mauritius: In view of the digitalisation of the services of the National Land Transport Authority (NLTA) and ensuring prompt service delivery to the public, the pilot project for the online registration of new and second-hand vehicles for motor vehicle dealers was launched on Friday 05 May 2023 in Port Louis.
The Minister of Land Transport and Light Rail, Minister of Foreign Affairs, Regional Integration and International Trade, Alan Ganoo, and the Road Transport Commissioner and Officer-in-Charge of the NLTA, Dr Koshik Reesaul, were present.
Minister Ganoo stated that the project was in line with the reforms being brought by the Ministry at the level of the NLTA and the transport sector to improve the quality of life of citizens and ease the proximity of services. "Digitalisation in today's world," he said, "is of paramount importance for ease of doing business and for improving customer service and experience whilst streamlining procedures and processes."
"This initiative," he indicated, "will ensure a prompt and efficient service delivery and also reduce manual processing works of the NLTA." "On average," he said, "the NLTA processes 80 transactions daily relating to registration of new and second-hand vehicles."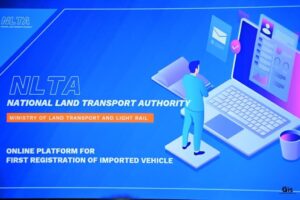 Minister Ganoo further pointed out that for the year 2022, the NLTA processed 213,396 transactions while some 73,436 transactions were handled thereat since January 2023 to date.
"Additionally," he added, "34,285 new and second-hand vehicles have been registered by the NLTA in 2022." "These figures show that the NLTA counters are overburdened by transactions, and thus the digitalisation and decentralisation of the NLTA services are crucial", he stressed.
He underlined that the project would provide motor vehicle dealers with a platform which would allow them to undertake registration of new and second-hand vehicles from their office on a 24/7 basis. With these streamlined and decentralised services, motor vehicle dealers can fill in all information online and once validated, the latter will be notified accordingly through an automated email, and thereafter, he can print the horsepower.
"The system," he added, "is integrated with other Government Departments for sharing of information via the Info-Highway platform and comprises enhanced security features to avoid duplication and forging."
For his part, the Road Transport Commissioner mentioned that the NLTA was digitalising its services to ease administrative procedures for the public. "The online registration is being launched on a pilot basis," he said while adding that it would be extended to other car dealers in the coming months.
He explained that henceforth, horse powers would be given to car dealers, and it would be their responsibility to ensure delivery to the clients.
Image creditL Mauritius facebook page