Mauritius: The Secretary-General of the Commonwealth, Rt Hon Patricia Scotland KC, accompanied by the Adviser and Head of Africa Region, Governance and Peace Directorate of the Commonwealth Secretariat, Abiola Sunmonu, paid a courtesy call on the President of the Republic of Mauritius, Prithvirajsing Roopun, yesterday, at the State House in Réduit.
The Rt Hon Patricia Scotland, KC, is currently in Mauritius to attend the 66th Meeting of the World Tourism Organization (UNWTO) Commission for Africa (CAF) from 26 to 28 July 2023.
In a statement, the Secretary-General underlined that discussions with President Roopun focused on the Commonwealth mandates pertaining to climate change and its impacts, the effects of COVID-19 on trade, tourism and food security as well as to find ways to address these matters, thereby, preparing member countries for a more resilient future.
The hopes and aspirations of COP 28 and good governance issues were also evoked, she added.
Speaking at the 66th UNWTO CAF Meeting, she indicated that it will provide a platform to share expertise, identify hindrances, and take up important matters to address upcoming challenges, redress economies, boost the tourism sector and enhance trade for a more sustainable world.
Patricia Scotland, KC, Commonwealth Secretary General, posted on his official social media handle and said. "It's an honour to meet with Prithvirajsing Roopun, President of Mauritius. We discussed #CHOGM mandates, our hopes for #COP28, good governance and digital upskilling. I'm truly grateful for his support for The Commonwealth's work, especially the Commonwealth Climate Finance Access Hub (#CommonwealthCFAH) based in #Mauritius."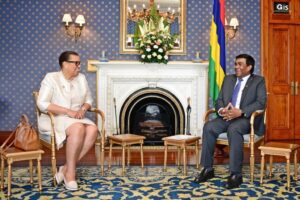 Yesterday, she met with the Mauritius Foreign Affairs Minister, Regional Integration and International Trade, Alan Ganoo.
Patricia Scotland had a rich discussion about the progress made towards #CHOGM2022 mandates and their ongoing cooperation on pressing issues, such as climate action, trade, debt and oceans. She was received by Louis Steven Obeegadoo, Deputy Prime Minister of Mauritius.
Their motive for the meeting was to meet with government officials on our shared priorities and speak at the World Tourism Organization (UNWTO)'s summit on building a resilient tourism sector.