South Africa: The reaction Unit South Africa (RUSA) team reported one more crime in which they reported a man and his 2 year old nephew was killed in a house fire on Coralbrook Place in Brookdale – KZN, a short while ago (Monday).
Residents contacted the Reaction Unit, South Africa, at 10:52 requesting immediate assistance. Several callers informed the controller on duty that the house was engulfed in flames, and attempts to remove the male and boy were unsuccessful due to the extensive heat.
All available Reaction Officers were dispatched to the scene and, on arrival, discovered the Ethekwini Fire & Rescue Services battling the blaze. The lifeless bodies of the man and the child were discovered in the kitchen.
Circumstances leading up to the incident have. It has been confirmed. Crime cases are increasing day by day in the region, and the team of Reaction Unit South Africa is doing well in controlling the crimes but still facing difficulty.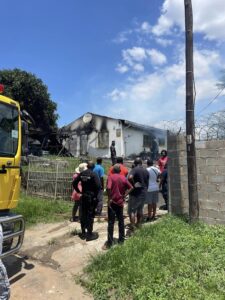 According to the data from April to June reported by Minister Bheki Cele, 855 women and 243 children were killed in South Africa.
The report also indicates that South Africa (Cape Town) ranks 19 highest in the world for organised crimes, and nearly half are cases related to murder, and moreover, South Africa has one of the most illicit markets in the world.