South Africa, Botswana: The Trans Kalahari Corridor (TKC) officers from Botswana, Namibia and South Africa have embarked on joint law enforcement traffic and road safety compliance operation at Sese junction, Jwaneng in Botswana.
Botswana is hosting the 12th Joint Law Enforcement Operation (JLEO), which started with two days of information sharing sessions and two days of road safety and law enforcement compliance.
The Minister of Transport and Public Works in Botswana, Eric Mothibi Molale, had officiated the operation, where he called the Three Member States to join hands in an effort to speed up developments along the corridor.
"We are here to reaffirm our being as one people to move forward together. When we join hands with one goal and vision in mind, we will achieve a lot," he said.
The Minister called on Trans Kalahari Corridor Secretariat and officials from the Three Member States to publicize endless business opportunities that exist along the corridor.
In his comments, representing South Africa, Co-Chair Mr Segodi Mogotsi reaffirmed the Country's continues support and available resources for the development and opportunities.
"There are developments taking place on the corridor, and they place great investment from the Three Member States," he said.
The three Member States host the joint operation on rational bases to harmonize substantial cross-border procedures consistent with Regional Integration and International best practices.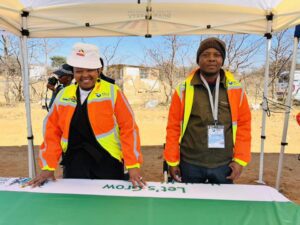 The Trans Kalahari Corridor (TKC) is a road network spanning approximately 1900 kilometres across the territories of Botswana, Namibia and South Africa.
It starts in the Gauteng Province in South Africa. It continues through Rustenburg and Zeerust in the North-West Province, through Lobatse and Kanye in Botswana, the Mamuno and Trans Kalahari Border Posts, through Gobabis, Windhoek and Okahandja in Namibia and right through to the Port of Walvis Bay.