KwaZulu Natal: Agribusiness Development Agency organized the annual Operations strategic planning session that took place last week to reflect, strategize and plan for the new financial year. The ADA EXCO, MANCO and support staff to operations visited Lunginhlanhla Projects (PTY) Ltd.
The project is a 100% black female youth-owned enterprise that specializes in the production and selling of eggs. It was established in 2020 and operated on a privately owned farm located in Mangathe Mandeni. The business is currently producing eggs on a 10,000-layer unit and has plans of expanding to a 30 000-layer unit in the next five years.
The ADA has supported Lunginhlahla Projects with an automated 10,000 Unit Layer Facility, together with its complementary equipment, in order to render the business functional. Furthermore, the ADA has supported the necessary inputs for production as well as continuous mentorship. The project is currently underway with the construction of a packhouse.
---
---
Lunginhlanhla Projects has already started to penetrate the market and has contributed to job creation to fight the scourge of unemployment in KZN. "Our brand is called Qandalami Eggs; we have analyzed the egg market in the North Coast, notably areas including Stanger, Mandeni, Gingindlovu and Eshowe, and have, in the interim, started supplying to semi-informal markets. However, we are working on supplying formal markets, such as retailers and would appreciate market access assistance. We have managed to employ six permanent staff, and offer graduate placement for experiential learning, shared owner of the enterprise, said Silondiwe Nxumalo.
"The passion and drive that has been displayed by the owners of this agribusiness enterprise give me great pleasure. Lunginhlanhla Projects is one of the very few black female-owned youth agribusiness enterprises that are destined for success in the Province because of their zeal and tenacity, said Siyabonga Mazibuko.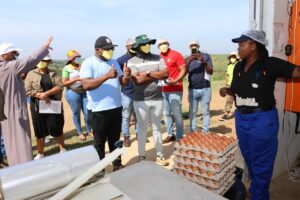 The way in which they welcomed us and gave a thorough explanation of their operations during the walkabout is impressive and shows that they know their story. I am confident in the sustainability of this project and wish that more youth can look up to them for inspiration and mentorship in the near future," expressed ADA Acting CEO Mr Siyabonga Mazibuko.
The General Manager of the business thanked the ADA for its assistance thus far, mentioning that with the structure and the business model that they have utilized, she is hopeful that there will be room for expansion that will assist in giving back to the youth and community in surrounding areas.
Image credit: KZN Business facebook page