Kenya: The Kenya Forest Service and the County Government of Baringo have agreed to work together in taking climate change action that is aimed at addressing the effects of climate change. Intervention areas include increasing tree cover on farm and range lands and diversification of on-farm tree species, including fruit trees.
The announcement was made earlier today when the Ag. Chief Conservator of Forests, Mr Alex Lemarkoko, hosted the Baringo County Governor, Benjamin Cheboi at the Kenya Forest Service headquarters.
While welcoming the Governor to KFS, Mr Lemarkoko said the Service will work with all stakeholders to ensure Kenya attains 30% tree cover by the year 2032. He said that part of KFS's strategy to attain the target is to engage in intensive tree growing on farms and protection of vast areas to spur the natural regeneration of pioneer species.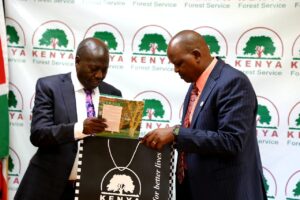 The two agreed that the Service will support women and youth in the production of fruit trees such as avocados, macadamia, mangoes, and citrus fruits. They further indicated that farmers would also be supported through engagement in environmental conservation projects, including tree nurseries and other nature-based enterprises.
Cheboi said his government intends to construct check-dams along major rivers that lead to Lake Baringo to reduce water flow velocity and provide water for domestic use and irrigation in farms.
The Governor said he is keen to increase the tree cover in the drier parts of the county through integrated range management approaches in collaboration with KFS and local communities. Cheboi added that the invasive Prosopis (mathenge) species that has colonized grazing fields in the county could be utilized for charcoal production as a means of reducing the species population and providing economic gains to affected families in Marigat and Tiaty Sub-counties.
Mr Lemarkoko noted that communities' ability to withstand the effects of climate change is critical. Hence all possible actions must to taken to increase resilience levels.