Botswana: Minister for State President and Member of Parliament for Molepolole South Kabo Morwaeng has pledged his support for the entrepreneurs in the textile sector.
Minister Morwaeng made this pledge at the textile sector capacity building workshop in Molepolole organized by his Constituency office under the theme: Intervention Geared Towards Promoting Sustainable Textile Business Growth.
Minister Morwaeng said the government came up with strong citizen empowerment policies, such as import restrictions on certain goods such as school uniforms.
He said the main reason for import restriction of certain goods is aimed at stimulating local production and the manufacturing sector.
 "The end result is to have existing manufacturing entities attaining growth, as well as new entrants into the market also gaining opportunities for meaningful participation in the local economy," Minister Morwaeng added.
He expressed that importing uniforms was inversely supporting the export of jobs; therefore, banning the importation of uniforms directly supports local job creation. Minister Morwaeng implored the entrepreneurs to consider forming clusters to enable them to meet the necessary market demands while also helping each other improve their skills to produce high quality products for the market.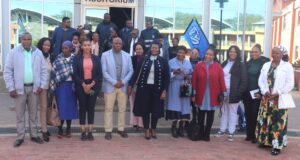 He further encouraged the entrepreneurs to work closely with schools, and Parent Teacher Associations, to be able to produce school uniforms for the schools in the constituency.
Meanwhile, Principal Industrial Officer in the Ministry for Trade and Industry, Tshepiso Kgarubane, encouraged the entrepreneurs to join associations that advocate for their industry to have unified positions on areas of concern.
Botswana Exporters & Manufacturers Association Chief Executive Officer Mmantlha Sankoloba also encouraged entrepreneurs to join BEMA. 
She said BEMA dresses issues related to manufacturing and export in Botswana by empowering members by providing network, trade opportunities and facilitation. "We aim at assisting our members to be more competitive both in the local and the international markets", she added.
The workshop was facilitated by, among other authorities from the Local Enterprise Authority, Stanbic Bank, Local Authority, Botswana Bureau of Standards (BOBS, Companies and Intellectual Property Authority and Botswana Textile and Clothing Association (BTCA).