Botswana: MYSC executive is on a week-long Senior Management Forum (SMF) retreat in Palapye to discuss the performance plan for the year and team building as the team embarks on a new year.
When setting the tone for the leadership, Assistant Minister Honest Buti Billy shared his hopes and expectations of the forum. He alluded that MYSC management should strive to become a benchmark for exceptional performance in Public Service.
He said that this could be achieved through recognition and appreciation of employees who work tirelessly to ensure that the Ministry's mandate is delivered effectively.
---
---
Minister Billy quoted, His Excellency the President's reset agenda, adding that as leaders, they ought to reflect initiatives that cultivate mindset change, "We cannot remain locked in the thinking of the unproductive eras and expect to escape the middle-income trap. This comes with developing capacity for entrepreneurship, eliminating inferiority complex and implementing government and strategic reforms that put citizen economic inclusion at the centre of economic initiatives".
Minister Billy said that the Public Service Charter urges public servants to inform themselves on all matters pertaining to their service as a way of cultivating the culture of capacitating themselves with all the government reforms.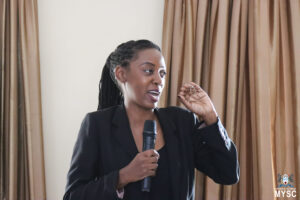 On his part, Permanent Secretary Kagiso Kitso Kemoeng reiterated the concept of accountability, introspection and teamwork.
He encouraged the MYSC leadership to sustain, anchor and improve performance where the wheels have gone off together as a team, stressing that these three aspects are ingredients to achieving excellence. He noted that the performance improvement of MYSC lies behind its strategic intent to create an enabling environment to execute plans with ease.