Mauritius: The implementation of an information system network on agriculture and food security in the Indian Ocean countries in the context of the Regional Programme for Food Security and Nutrition (PRESAN) for the development and improvement of food and nutrition security in the Indian Ocean States was launched, this morning, at the Caudan Arts Centre.
The Attorney-General, Minister of Agro-Industry and Food Security, Mr Maneesh Gobin, was present.
PRESAN, a joint initiative of the Indian Ocean Commission (IOC) and the Food and Agriculture Organisation of the United Nations (FAO) and financed by the European Union (EU), aims to promote the development of agricultural and food value chains of regional interest through the strengthening of competitiveness, the revitalisation of intra-regional trade, and the improvement of the populations' food and nutritional resilience.
---
---
PRESAN is, therefore, a framework aimed at improving the food security and nutrition of populations in its Member States. Within this framework, facilities of a technical, regulatory and/or financial nature will be set up to support the private sector and to develop the priority value chains of regional interest.
In his address, Minister Gobin underlined the importance of an information system network which will facilitate the decision-making process as regards food and nutritional resilience. He recalled that Mauritius and other Small Island Developing States are affected by climate change, sea level rise, and soil erosion.
The main preoccupation, therefore, is to ensure the food security of the population, he pointed out.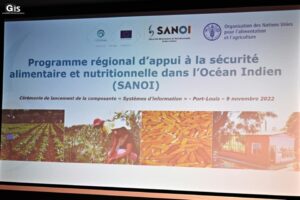 Furthermore, he dwelt on the objectives of the project, which will facilitate the setting up of a regional platform aimed at supporting the activities of the national information systems as well as enhance the coordination of information pertaining to food security in the Indian Ocean Islands namely Comoros, Madagascar, Mauritius, and Seychelles.
Also present, the First Counselor of the EU, Mrs Florence Van Houtte, stressed the need to reinforce food security in the Indian Ocean, especially amidst the sanitary crisis of COVID-19 and climatic change. She affirmed that food security and the decrease in food imports are one of the core preoccupations of the Mauritian Government.
She, therefore, highlighted that the project, to the tune of 2 million euros and spanned over 46 months, will help reinforce the information system as well as solve the problem of lack of data in the different countries in the Indian Ocean. It will also assist in giving a boost to intra-regional trade, she added.