Mauritius: An official ceremony was organised yesterday at the New Cruise Passenger Terminal at Les Salines for the relaunching of the passenger service for the Mauritius-Rodrigues-Mauritius route on board the MV Trochetia cargo/passenger ship by the Mauritius Shipping Corporation Ltd.
The Minister of Blue Economy, Marine Resources, Fisheries and Shipping, Mr Sudheer Maudhoo, and other personalities were present at the event.
In a statement, Minister Maudhoo highlighted that the passenger service on board MV Trochetia was being relaunched after more than two and a half years and the outbreak of the COVID-19 pandemic. He pointed out that this inaugural trip coincides with the school holidays and that some 84 passengers booked their tickets for the Mauritius-Rodrigues-Mauritius journey.
The Minister expressed hope that passengers will enjoy the voyage and make the most of the various services available on board MV Trochetia. He informed that, in a bid for the Mauritius Shipping Corporation Ltd to enhance its service, each passenger can now carry four suitcases of 22 kilogrammes each.
On another note, he recalled that, as announced in Budget 2023-2024, the Government is waiving the freight charges on containers from Rodrigues to Mauritius for agricultural products, including onions, chillis, coffee, beans, and lemons. According to him, this measure aims to encourage imports of products from Rodrigues.
Furthermore, Minister Maudhoo underlined that a new cargo vessel connecting Mauritius and Rodrigues will be operational by October 2023. As such, he stated, MV Trochetia will be mainly used as a passenger vessel for cruises around the island and to Reunion Island, amongst others.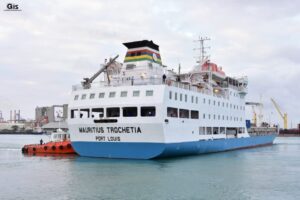 The Mauritius Shipping Corporation Ltd is also working on the modalities for the replacement of MV Trochetia in some three years' time with a modern passenger/cargo vessel, he added.
MV Trochetia is expected to reach Rodrigues Island on 19 July 2023.