Mauritius: Mauritius government will soon sign an Agreement with l'Agence Française de Development (AFD) and L'Agence de l'Environnement et de la Maîtrise de l'Energie (ADEME) from Réunion to efficiently develop the waste management sector in Mauritius, announced the Minister of Environment, Solid Waste Management and Climate Change, Kavydass Ramano.
He made this statement yesterday, on 24th April 2023, following a meeting with the Director of AFD, Laëtitia Habchi and the Director of ADEME, Frédéric Guillot, regarding the development of a new Solid Waste Management Strategy.
The Minister indicated that a team of ADEME is on a three days visit to Mauritius to evaluate the waste management system in the country. He underlined the need for collaboration with the AFD and the ADEME to enable the Ministry to consolidate actions towards a circular economy in waste management.
---
---
According to Minister Ramano, a Mauritian delegation will affect a site visit to Réunion to better understand the procedures involved in waste management in terms of collection and segregation, as well as circular initiatives in the waste sector.
The AFD, he stressed, has the necessary funds and expertise to assist the Ministry in achieving its goals. They include training and capacity building; sensitisation and awareness campaign on source segregation; valorisation of construction and demolition of waste; and development of project and contract management skills.
l'Agence Française de Development (AFD):
It is basically a French Development Agency (French: Agence française de développement, AFD), and it is mainly a public financial institution that executes the policy defined by the French Government. They also fight against poverty and promote sustainable development.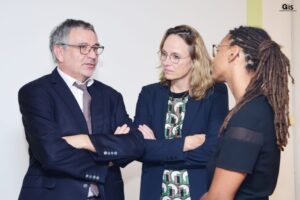 These public institutions are active in many countries like the Middle East, Africa, Asia, Latin America, the Caribbean, and many French territories. In these countries, they provide financial help, which helps them to improve their living conditions and economic conditions. 
L'Agence de l'Environnement et de la Maîtrise de l'Energie:
L'Agence de l'Environnement et de la Maîtrise de l'Energie means the Environment and Energy Managament Agency, which is also a French public industrial and commercial establishment company and it was first established in 1991. 
Currently. this company is under the supervision of the Higher education Minister, Research and Innovation Minister, and Ecological and Inclusive Transition. 
Image credit: Mauritius facebook page