South Africa: Free State Provincial Government MEC Premier Sisi Ntombela started her speech by welcoming all and talked about the achievements of the class of 2021 as they promised that they would become the best-performing province when the Grade 12 results for the class of 2022 were announced.
Mec Sisi Ntombela stated, "We made that promise, not out of arrogance, but informed by the solid foundation that we have laid, which allows for continuous high performance and excellence from our learners."
Furthermore, she said, "this achievement is truly remarkable, and I am humbled by the performance of our learners whose hard work, under extremely challenging circumstances, is admirable."
---
---
We have set records that are not going to be broken anytime soon. Under the able leadership of Mmampudi, MEC Makgoe, the Free State province, a largely rural province, has become the envy of the entire country. I want to congratulate you, my brother, my comrade, Mmampudi wa rona. Your name will definitely be etched into the annals of history, and your province will always honour and respect you, said Ntombela.
Achieving this feat for a fourth consecutive year is by no means an easy feat. However, the dedication and hard work of MEC Makgoe is really commendable, which has really filled life in officials, teachers and learners alike to ensure that the province develops as the best in the country.
She also gave remarks to the learners by saying that these beautiful flowers of our province managed to outdo all the other provinces when all of us were under the burden of COVID-19.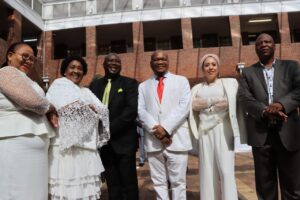 She also mentioned that this is a moment of joy and celebration; we must not lose focus on what is important, which is the education of our children. The ruling party, the African National Congress, to which I belong, has made education an apex priority. This, we did consciously, with the knowledge that an educated child is an asset to his / her country.
We took heed of what Oliver Tambo, one of the most esteemed leaders of our times, said when he warned that, and I quote: "A country…that does not value its youth and children does not deserve its future." This is profound, ladies and gentlemen, because, before us, are the youth who now bear the responsibility of carrying this province, and indeed this country, on their shoulders and forward."
She further said that what these children have achieved is nothing short of amazing. As if becoming the best-performing province was not enough, four of our districts, namely Motheo, Lejweleputswa, Xhariep and Thabo Mofutsanyana, made it into the top ten of the best-performing districts in the country. As if that is not enough, both Motheo, with 90.8% and Fezile Dabi, with 90.4 %, are the two leading districts in the entire country.
Image credit: Free State Government Facebook Page