(UK) Birmingham: Minister of Sport, Arts and Culture Nathi Mthethwa visited the Ekhaya Centre in central Birmingham, where he joined the festivities at a specially organised Night of the Stars event on Wednesday.
The event was hosted by Brand South Africa and the Department of Sport, Arts and Culture to celebrate all things South Africa and included performances by music icon Vusi Mahlasela, Qadasi & Maqhinga, and the Tribhangi Dance Theatre.
Also in attendance was the President of the South African Sports Confederation and Olympic Committee [SASCOC], Barry Hendricks and SASCOC CEO Nozipho Jafta.
"We enjoyed a wonderful evening at the Ekhaya Centre showcasing the best of both South African sport and culture and the type of exceptional ambience that you can create when the two are combined," said Mthethwa.
"Ekhaya is indeed a potent weapon which can be used to reboot the creative sector in the aftermath of the COVID-19 pandemic.
"The audience that visited the centre came to the party and demonstrated that sport, culture and the creative industry can be enjoyed in a unique way.
"Yesterday, we saw South Africans watching with bated breath both the semi-final and final of the 100m in support of both Akani Simbine and Charl du Toit.
"The mixed audience was able to bring together a wonderful vibe between artists and sports performance".
"Let me take this opportunity to thank 'Ntate' Vusi Mahlasela for his contribution to social cohesion and nation building.
The 'Say Africa' song, which he performed twice, brought such a wonderful vibe and was indeed out of this world. The music of the Maskandi duo Qadasi and Maqhinga had everyone on their feet and demonstrated social cohesion and nation-building, and took us back to the years of Johnny Clegg and Savuka.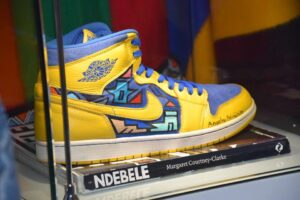 "This was followed by the Tribhangi Dance Theatre, who created an amazing cohesive cultural mix and were able to demonstrate that different cultures can indeed get along and bring the nation together."
Minister Mthethwa also hailed the Ekhaya Centre for what it has achieved in creating a "home away from home" for South Africans in Birmingham while seamlessly combining and celebrating sport, arts, and culture.
"Ekhaya Centre is a spectacle in demonstrating to the world that South Africa is indeed a socially cohesive, active and winning nation, and I am looking forward to more Ekhaya Centres during international events," he said.
"I urge everyone who is in Birmingham to visit the Ekhaya Centre to experience this for themselves," said Mthethwa.
South Africa finished day 6 of the Commonwealth Games in sixth place on the medal table with 20 medals (6 gold, 7 silver and 7 bronze).