South Africa: 3816 (Three thousand eight hundred sixteen) vehicles were checked, and 184 traffic fines were issued at roadblocks conducted by 238 female law enforcement officers and other stakeholders across the five municipal districts in the province. 
This was done over two days during the first week of this month.
These special joint operations were conducted as part of the 2022 August – Women's Month Programme that is observed under the theme:
"Generation Equality: Realising Women's Rights for an Equal Future"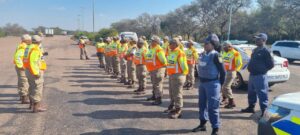 The concept of Generation Equality is a global campaign and links South Africa to global efforts to achieve gender equality by 2030.
Traffic fines were issued for various offences, including those related to driving licenses, license discs, seatbelts, number plates and tyres.
A number of arrests were also made on public drinking, illegal cigarettes, possession of dagga, possession of suspected stolen goods and illegal immigrants.
MEC for Transport and Community Safety, Polly Boshielo, applauds the operations and the officers who have ensured their success.
---
---
"Our women in uniform remain equal to the task. This is evident in the many breakthroughs we continue to make every day through their leadership and skills towards ensuring a safe Limpopo.
We are equally saying to the girl child that it is possible! Look at women in these operations and see what you are capable of.
These operations are part of our resuscitation of the Arrive Alive Programme and Safer Communities initiatives to inculcate safe road user behaviour, create a heightened awareness of road traffic safety issues, and persuade motorists to pay their traffic fines," said MEC Boshielo.