A municipal mini synthetic football pitch in Batterie Cassée, to open up greater access to football among the youth of the region and engage inhabitants in adopting a sports culture, was inaugurated yesterday by the Member of Parliament (MP), Mrs Subhasnee Luchmun Roy, and the Lord Mayor of Port-Louis, Mr Mahfooz Moussa Cadersaïb. The event was attended by other personalities and inhabitants of Batterie Cassée.
The mini pitch, on artificial turf, will enable the youth to play sports in a relatively small space. It is expected to create a faster, more intensive experience of playing football than on a regular pitch by allowing more ball contact, more decisions and scoring more goals.
In her address, Mrs Luchmun Roy stated that Government is working for the benefit of all citizens within the society for their development that cuts across all sectors, be it in the sports or in the cultural spheres.
---
---
Speaking about the mini synthetic football pitch, she indicated that it had been set up for the children and inhabitants of the region, and it was their duty to keep it in pristine conditions. Mrs Luchmun Roy also extended her best wishes to the youth so that they become successful in football by starting on the mini-pitch and achieving a promising football career in the future.
The MP further announced that a MUGA, which is a community-based fun and fitness movement, will be implemented shortly in the vicinity and will also comprise an elderly corner and will offer many activities, including Zumba sessions. She, in addition, mentioned the Abercrombie market fair, which is another major project in the pipeline.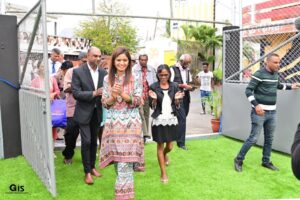 For his part, the Lord Mayor emphasised that the local authorities are putting in a lot of work to implement projects to enhance the quality of life of inhabitants and recalled that in the recent past, five outdoor gyms were inaugurated in the region.
He similarly highlighted the development of other projects in Port-Louis, which encompass the setting up of green spaces; construction of drainage systems, a sports centre and a music school; and improving road infrastructures.
On that note, he expressed gratitude to the Prime Minister, and the Minister of Finance, Economic Planning and Development, for putting investments to the tune of Rs 251 million at the disposal of the Municipal Council of Port-Louis for project implementation in the Capital.
The Lord Mayor appealed to inhabitants to make maximum use of the mini-pitch and expressed hope that it would be a platform to reveal the future football champions of the country.