Basseterre, St. Kitts and Nevis: Frances-Ann Prince was born on October 11, 1922, celebrated her 100th birthday on Tuesday and became the newest centenarian in St. Kitts and Nevis. 
On Tuesday, she celebrated her birthday with the Prime Minister of St Kitts and Nevis, Dr Terrance Drew, as well as her family, friends and many other well-wishers, and Prime Minister mentioned that "he was excited to spend part of his day with the newest centenarian."
According to Prime Minister, "It is a pleasure indeed for me to see her reach 100," and he also praised the family and others who helped to care for Ms Prince in her crucial golden years. "Congratulations on your 100th, Ms Prince. Good to see you, and I wish you, of course, health and happiness always."
Not only had he just celebrated her birthday, but he also placed a medal on her neck in order to celebrate the special occasion. He also gave her a Boquet of flowers along with a basket of fruits on behalf of the Ministry of Social Development and Ageing et al.
---
---
Ms Prince was poured with words of love and appreciation by the side of children, grandchildren and other family members and friends. 
St. Mary's Anglican Church Father, Cayon, thanked god for the grace and mercy towards the faithful parishioner.
Ms Prince gave birth to 15 children, two of which were stillborn.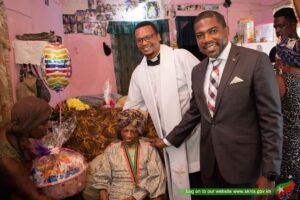 Ms Prince made many sacrifices during her time in a gang at Hermitage Estate. Six children are alive today, in which three of them were present at her birthday celebration. Ms. Prince's favourite song is "Never Grow Old."
There are a total of 11 centenarians in the twin-island Federation, of which Seven live in St. Kitts and 4 in Nevis.