South Africa, KZN: A pedestrian was seriously injured after he was run over while attempting to cross the north bound lane of the R102 between Verulam & Ottawa – KZN this morning (Wednesday).
A member of Reaction Unit South Africa (RUSA) was approaching the scene at approximately 07:43 when he stopped to assist a Metro Policeman who was in attendance.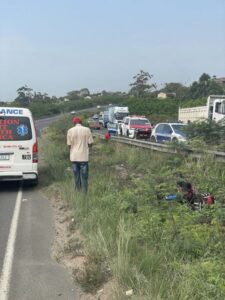 The pedestrian was located in the centre median. RUSA Medics were called out to stabilise the seriously injured male who was transported to a local hospital. It was established that the pedestrian was attempting to cross the R102 when he was struck by a grey Chery Tiggo.
The driver of the vehicle was not injured.