Juba, South Sudan – President Salva Kiir Mayardit on Monday received a briefing from the Minister of Wildlife and Conservation Rizik Zachariah Hassan about a new Memorandum of Understanding signed between the Ministry and Africa Parks Network for the upgrade and development of wildlife National Parks.
After the meeting, Rizik Zachariah Hassan addressed the media and stated that the Memorandum allows the Africa Parks Network to upgrade, develop and manage key National Parks, such as Badingo and Boma in the Pibor Administrative Area, for the benefit of the government and local communities.
Africa Parks Network is a nonprofit organization that manages national parks and protected areas in partnership with governments across Africa.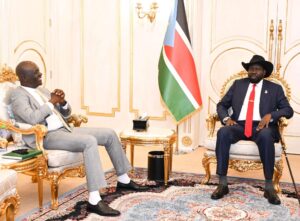 Residents of South Sudan seemed happy after hearing this, and one of the residents named Salva Amos Logie from Kessengor, South of Boma National Park, stated that "we need to protect our wildlife service because I myself witnessed poaching of wild animals.
Furthermore, he said, "Let the government deploy wardens into the parks. Otherwise, I learned a few Elephants, Lions, giraffes, Baffullos and Leopards are left.
---
---
On the other hand, President Kiir pledges to restore peace and stability in Chollo land. On Monday, he also held a meeting in his office with top leaders of the Chollo Community to discuss the peace and security situation in the Chollo areas.
Speaking to the Press after the meeting, the Minister of Livestock and Fisheries, Onyoti Adigo Nyikwach, said their community leaders called on the President to intervene in ending the violent aggression by armed militia from neighbouring communities. 
He further explained that the armed criminals have been carrying heinous crimes in the area, causing serious security threats to the community.
On her part, the SPLM Chief Whip at the Transitional National Legislative Assembly, Rebecca Joshua Okwachi, who is also a senior member of the Chollo Community, appreciated the President for reaffirming his commitment to intervene in restoring peace and stability in the region.