JUBA, South Sudan – President Salva Kiir Mayardit on Wednesday met with the advance team of the Agwelek, a faction under the command of Gen. Johnson Olony, to discuss the issues of insecurities in Upper Nile State, particularly Malakal.
Agwelek, the breakaway Kit-Gwang faction of the SPLM/SPLA-IO, recently clashed with the forces of SPLM/A -In Opposition Kitwang faction of Gen. Simon Gatwech Dual in Panyikang County raised a lot of insecurity in the town.
---
---
The advance team talked about the status of the implementation of the Khartoum Peace Agreement between SPLM-IG and the SPLM-IO Kit-Gwang group led by Gen. Simon Gatwech, which talks about the integration of Kit-Gwang forces into the national army, the South Sudan People's Defense Forces (SSPDF).
President Kiir expressed concerns about the insecurities in Malakal town caused by the fighting between SPLM-IO Kitgwang factions led by General Simon Gatwech and General Johnson Olony in Upper Nile State.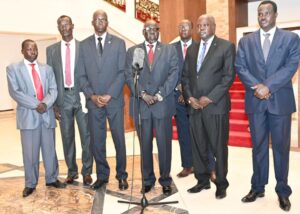 The meeting further touched on the issue of flooding that has affected the local population in some parts of the Upper Nile region.
President Kiir said General Johnson OLony should come to Juba and work collectively to implement the agreement such that if there are difficulties, they will address them together as a team and move forward. He urged the factions to cease the conflicts.
---
---
The President further said he would call for the Presidency meeting to discuss the insecurity situation in Upper Nile.