South Africa: SALGA Northern Cape's Municipal Capabilities Unit holds its provincial working group in Upington on Wednesday, 12 October 2022. Working Groups are ways and means through which SALGA programmes are driven, whilst on the other hand, the National Executive Committee (NEC) plays a critical role in overseeing the overall activities of SALGA.
They are a policy and strategic engine of the organization and are an important platform for communication and coordination between SALGA National, Provinces and Municipalities.
These structures are mandated to make contributions to the formulation of policies and strategies to clearly address issues pertaining to local government as well as pave the way for the execution of programmes that seek to provide support to municipalities.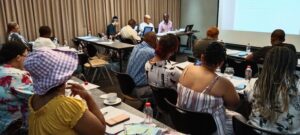 This particular Working Group takes place as the first one post the establishment of new various Working Group structures, so it also assisted the participating Councillors to further understand their roles, contributions and decision inputs to the sittings.
The Municipal Capabilities Working Group focuses on discussions around the effective representation of the Local Government Sector as an Employer Body, mobilization of sector intelligence through integrated research, knowledge management and learning, training interventions and initiatives, strengthening of oversight and accountability for effective, accountable and transparent leadership as the provision of support to the improvement of audit performance in municipalities through adhering to compliance issues.
Progress reports on the work done by the unit are tabled, scrutinized and engaged as a way of paving a way forward for improved and better performance of the unit.