Dominica: Dominica is an island set between the French Islands of Guadeloupe and Martinique and dusted by the small islands of Les Saintes and Marie Galante, the volcanic island of Dominica is much as it were in 1493 when Christopher Columbus rediscovered it.
Dominica remains pristine, from its mountainous ridges and volcanic peaks to its cascading waterfalls along its numerous free flowing rivers. It boasts the planet's second largest boiling lake and an unusual pod of large sperm whales off its deep warm waters along its west coast.
Dominica enjoys a stable Westminster-type constitutional government led by a Prime Minister universally elected by full adult suffrage. It is a republic in the Commonwealth of Nations. Crime is minimal. Even though the local dialect Kweyol is widely spoken in rural communities, English is the spoken language.
---
---
The country produces enough food from the land and sea to feed its 72,000 inhabitants, largely the descendants of African slaves. There is a large Kalinago population of indigenous people who live on reserved lands in the north-east.
The country's economy is buoyant, with a 7 percent growth in GDP projected by the World Bank for 2023. After nearly total devastation in September 2017 by Category five hurricane Maria, the country, with the help of a friendly world community and astute management, has bounced back to bigger and better, more resilient and rebuilt not to be as impacted as before by cyclonic disturbances.
While agriculture remains a staple, the island nation has shifted to welcoming thousands of visitors each year to share in its natural beauty. Large cruise ships berth each day in the cruise ship season while the new five star resorts led by international Kempinski welcome those prepared to spend longer periods visiting.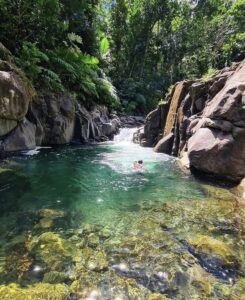 The roads and bridges are renewed and maintained in impeccable condition to allow for discovering this beautiful island, now easily accessible by air out of Miami in the north and Port of Spain in the south.
Come visit Dominica, where the USD will give you XCD2.60 in a favourable exchange.
Image credit: Dominica Facebook Page