South Africa: The South African Military Health Service is currently wrapping up the opening plan for the launch of OWETHU projects at Umhlathuze Municipality Council Chamber on the morning of 02 February 2022, in Richards Bay, KwaZulu-Natal.
The morning kick-started when Major Sakhile Mtshali and Mr Sibonelo Ntuli collaborated on the execution plan for the opening that will take place on 06 February 2023. During his presentation, he highlighted that SA Military Health Service would embark on a series of planned OWETHU Project activities, such as health screening and treatment, that can go a long way in safeguarding the health of the community.
Armed Force Day 2023 has a golden spark focusing on community outreach programs that will benefit King Cetswayo District municipality and surrounding areas.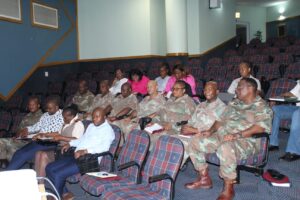 On the same day, the SA National Defence Force, South African Military Health Service and Department of Health KwaZulu-Natal Malaria Control conducted mosquito preventative strategies on the morning of 03 February 2023 at Richards Bay, KwaZulu-Natal.
The only aim of this exercise is to remove breeding grounds and use pesticides that kill the larvae living in them before they get a chance to mature. This exercise was conducted under the guidance of Entomologist Dr Power Tshikae, who also gave prevention tips such as; using mosquito repellents and wearing long-sleeved clothing.
Furthermore, South African Military Health Service Pest control operators Staff Sergeant J. Buthelezi and Sergeant E.W. de Lange were on the side to conduct pest control action, including indoor residual spraying inside the weather heavens.
---
---
They also gave this information through their Tweets in which they informed about both initiatives towards their society's welfare.
The first tweet was about the SA Military Health Service initiative for Armed Forces Day 2023 OWETHU Projects.
And the second tweet was related to Mosquitos Control Intervention at Richards Bay industrial Developments Zone, Tented Village.