South Africa, Northern West, Lichtenburg: A collision between a taxi and a bakkie has claimed six lives on the R503 road between Lichtenburg and Mafikeng in the North West Province. The collision happened at 5:15 p.m. (evening) on Sunday, leading to road closure for about five hours.
It is alleged the taxi that was from Mahikeng driving eastwards collided with a bakkie that was overtaking another vehicle coming from the Lichtenburg direction. The deceased are four men, including the driver and two women and are all from the taxi. Several other seriously injured passengers were taken to General Delarey Hospital in Lichtenburg and Mahikeng Provincial Hospital.
The road was cleared and opened for traffic at 21:30 in the evening. The MEC for the Department of Community Safety and Transport Management, Sello Lehari, sent condolences to the bereaved families and wished speedy recovery to the hospitalised injured.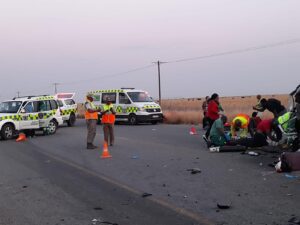 Sources also confirmed that some of the passengers were still trapped inside both vehicles, and a rescue operation is underway. Law enforcement officers from the North West Provincial Department of Community Safety & Transport Management team were also present on the scene.
Locals are in shock by this accident. Some claim this occurred because of impatient people on the roads, Overtaking on blind turns, overtaking on solid lines, and overtaking with oncoming traffic. And then people get upset with me when I flash my car's brights at them when they commit these selfish acts.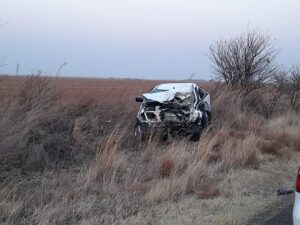 Another user said, "And on my way to work this morning, I see a taxi overtaking a long line of vehicles by moving into the oncoming lane (driving on the wrong side of the road) heading straight at me…with no regard of the oncoming traffic. He is not even making any attempt to get back into his side of the road. He's not even one bit concerned about the safety of his passengers; he just wants to get to the front of the line. Everyone needs to get somewhere, not just you, idiot."