South Africa: The Department of Public Works and Infrastructure, in partnership with the Department of Sport, Arts and Culture, is currently implementing the Museum Maintenance Programme.
This Programme falls under EPWP Environment and Culture Sector and has recruited 16 participants, which consist of 15 General Workers and 1 Tour Guide at Muti wa Vatsonga museum in Hans Merensky Nature Reserve under Mopani District in Limpopo.
The participants were appointed on a 12 month contract starting from 01 April 2022 to 31 March 2023.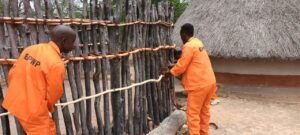 Participants were recruited from five local communities close to the museum, namely:
1) Ramotshinyadi Village, under Greater Tzaneen Local Municipality; 
2) N'wamarhanga Village; 
3) Mphakani Village; 
4) Mageva Village; and 
5) Ndhambi Village, all under Greater Giyani Local Municipality.
The recruitment was conducted through consultation with the Traditional Leaders in all five villages.
On a daily basis, Participants are responsible for the general route maintenance and renovations of traditional museum structures, i.e. perform the routine museum maintenance activities, ensure the availability of maintenance materials: cutting, collection and transportation of all raw materials, restoration and renovations of all museum traditional structures, Cleaning of museum facilities and structures, landscaping such as controlling of water streams in the museum and outside the museum to the access road and dam, creation of fire breaks for fire management.
---
---
Participants further assist the museum team with all routine activities in respect of livestock, such as care for museum livestock, and inspection and treatment against ticks and other illnesses.
The Museum Maintenance Programme is implemented at three state-owned provincial museums, namely: 
1) Muti wa Vatsonga Museum in Mopani District, 
2) Dzata Museum and 
3) Schoemansdal Museum, both in Vhembe District. 
The Programme has created 54 EPWP work opportunities. Participants receive a monthly stipend at a rate of R140 per day.
Image credit: PWP Facebook page