South Africa: Free State Provincial government held an awareness campaign in which they gave training to nearly ten thousand youngsters. The campaign aimed at guiding and steering the youngsters in the right direction, to protect them from falling prey to drug syndicates, alcohol and substance abuse, early pregnancy, and ultimately a life of crime.
They also stated that they "as government and most importantly as mothers and fathers are to fight to the bitter end for the future of our youth." These were the words of Premier Sisi Ntombela, speaking at the launch of the Free State NEMISA COLAB at the Central University of Technology Free State in Bloemfontein.
The launch of the COLAB is a strategic partnership between the University (CUT), the Free State Provincial Government and the National Electronic Media Institute of South Africa (Nemisa) in line with the growth and development plan of the province and the existing MoU with NEMISA.
Image credit: Free State Provincial Government Facebook page
This digital skills development programme will be rolled out throughout all the districts of the province as a deliberate strategy to develop a youth that will respond to the divergent needs of all Free State towns.
The programme is in line with the growth and development plan of the Free State as well as the national digital skills training for the proper use of technology to improve the quality of life for all people in South Africa.
Ten thousand youngsters will be trained in four fundamental pillars of the digital skills development programme; basic digital literature, specialized programmes, digital transformation and research on the development of work. A further two hundred SMMES will also be trained through this progressive partnership.
According to Premier Sisi Ntombela, "We need to find a mechanism to communicate Free State to be able to attract foreign direct investment, trade across the province. We must also be able to create an ecosystem wherein our economy prospers, and our young people are at the centre of the work and the Free State we want to build."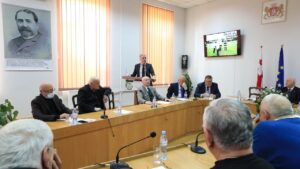 "Government does not communicate or showcase its good stories enough, and this is where CUT and NEMISA come in these discussions; the development of electronic and visual media to help equip our youth to tell the stories of the Free State through their own lens. Develop a workforce developed to respond to the needs of our economy," MEC Gadija Brown.
A skilled workforce is fundamental to bringing Foreign Direct Investment into the province. Investors look at a variety of factors before making an investment, and one of those is the skills level of the workforce.
"We are a mineral-rich province, but our people are living in abject poverty. Our people are dying a slow death because of alcohol and substance abuse. We welcome this massive empowerment programme that seeks to capacitate our youth, and in addition to this, we need to bring in the various SITAs to assist in upskilling the current workforce and train many more young people in agriculture as we as mining to accelerate economic growth and to create jobs, particularly for young people" said Premier Sisi Ntombela.
Nemisa was established by departments of communications and digital technologies, and their core business is skills development.
The following are some of the creative arts disciplines offered; content production, radio, animation, interactive media, web development, graphic design, digital photography, and storytelling using digital devices. Digital Technologies courses are as follows digital literature, data science, artificial intelligence, robotics, digital transformation etc.
Image credit: Free State Provincial Government Facebook page