South Africa: The Executive Council of the Free State (EXCO) yesterday, 12 October 2022, met the College Council of Motheo Technical, Vocational, Education and Training at Motheo TVET Artisan Campus in Bloemfontein.
Motheo TVET College is one of four public TVET colleges in the Free State, serving both the Motheo district and the Xhariep district. The College boasts a total of eight campuses across the two districts, namely; Bloemfontein campus, Hillside view, Thaba Nchu, Botshabelo, Koffiefontein, Zastron, Plot 32 and Centre for Entrepreneurship and Rapid Incubator.
The paramount aim of the engagement was to build a long lasting strategic partnership that will respond to prevailing socio-economic challenges that continue to plague our communities, particularly the youth, foster development, innovation and also leverage on a pool of available skills offered by the institution.
---
---
Furthermore, the partnership also aims to influence the economic outlook of the province and thus pursue a coordinated effort for skills development and economic opportunities.
The meeting also looked at creating diverse avenues that would assist in streamlining skills to directly respond to the current and future economic demands in line with the potential strength of the Free State economy.
Although there have been signs of positive economic growth, the province is sitting at a thirty one (31) percent unemployment rate; a five (5) percent decrease from the thirty six (36) percent from the previous quarter, young people remain the main casualties of this state of joblessness.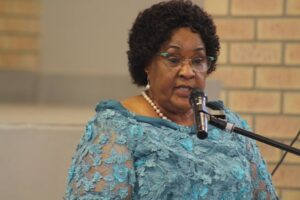 Premier Sisi Ntombela lauded the incredible progress made by the Motheo TVET College Council led by Prof. M.D.M Phutsisi, an exceptional woman leader who has completely turned around the fortunes of the institution and elevated it to one of the top performing public college institutions in the country.