Africa, Uganda: Every second person in Africa is very excited for the team MK48 and wishes them luck, especially the team's new members.
What is Team MK??
MK is an award-winning team, and they also got an award yesterday, on which the President of Uganda also congratulated them. He wrote, "Congratulations, Team, for winning the MKat48 birthday cup. Well played, Generals!!!!!!!!!!"
I thank some friends for celebrating #mk48 in Juba, South Sudan. Team MK has strong support throughout East Africa. pic.twitter.com/2GQMoEd9Gq

— Muhoozi Kainerugaba (@mkainerugaba) April 29, 2022
MKAt48 stands to be the most popular & vibrant movement in East Africa right now. 
The people of Uganda thanked President Museveni for living an exemplary & inspiring life.
One Twitter user named 'Queeno fankole' commented: "We thank them for joining millions in celebrating an icon like you Greatest General." 
One more user, "Nuwamanya Isaac", who is a farmer by profession, stated, "Tororo celebrated you yesterday. Bunyoro is celebrating you soon, Rwampara. We are there on Sunday, Busoga Region, Deep East, North, et al. all preparing celebrations; your support is real and unstoppable."
A special force of commander 'Hilary MK' also tweeted ", We have all the reasons for you to join team MK."
We have all the reasons for you to join team MK pic.twitter.com/Hv1RoMYi03

— Hilary MK 🇺🇬 (@HilarysTake) April 30, 2022
According to the leader and national of Uganda, "Ggayira Mp", Distance is not a barrier. A true leader may not move All around the world, but his good deeds travel to every point of the world. The so happens to Gen. Mk."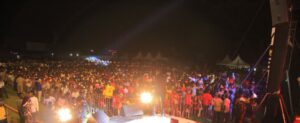 One more user "Kamukama Fredie," wrote ", Team MK is powerful, so many people have been saying you pay people to support you but question how much was paid to these crowds? Do not disappoint us in 2026 cause I don't know what we shall tell the world if you don't come? People love you genuinely."
The person who personally visited this event stated that "I Am also one of your Fun from Somalia; I remember you visited our country to encourage and motivate UPDF soldiers against al-Shabab; thanks for the great you have done, Uganda and Somalia as well, God bless you, with more years to come."
As per 'Collin MK's tweet ", We appreciate our brothers and sisters in South Sudan for being part of these celebrations."