According to the Chancellor of Makerere University, Prof Ezra Suruma, the vision of the Parish Development Model (PDM) is taken to make sure that every household in Uganda engages in income-generating activities to be socially and economically transformed.
Prof Ezra Suruma is also a Ugandan economist, banker, and academic. He got the opportunity to become the chancellor of Makerere University in January 2016. He previously performed as a senior adviser to the president of Uganda on finance and economic planning, a post he held from 16 February 2009 until 15 January 2016.
During his time as minister of finance, he was a strong promoter of Uganda's ban
king industry. He was instrumental in the planning and initiating of Uganda's microfinance project that helps small farmers and businesses obtain low-interest loans.
Sauma made this statement during giving lectures of opportunity to Uganda People's Defence Forces Service Chiefs about the use of the Parish Development Model (PDM) in removing poverty.
"Having a minimum income allows one to afford basic human needs such as food, shelter, clothing, health care, and education," Suruma explained.
He stated that the PDM was chosen to operate under the National Development Plan Three (NDPIII) as a vehicle to improve Ugandans' household incomes and quality of life.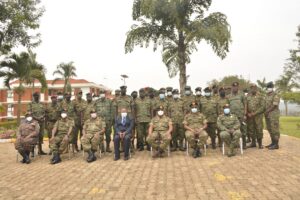 He further stated that this programme creates an opportunity for the government to reach every household and, ultimately, every individual. It also reduces the gap between the government and the people.
The UPDF Joint Chief of Staff Maj Gen Leopold Kyanda highlighted the need for residents to get sensitized about the advantages of the Parish Development Model in eliminating poverty.
He stated that the Parish Development Model (PDM) aims to increase per capita income, particularly for peasants who are currently living on subsistence, as well as to achieve sustained full employment of parish resources, including labour, and to bring government closer to the people.