South Sudan, JUBA: On 13th October 2022, South Sudan President Salva Kiir Mayardit on Thursday received a briefing from Vice President for Infrastructure Cluster Taban Deng Gai on the progress of the Construction and establishment of an Air Traffic Management (ATM) system at Juba International Airport as well as the status of road network projects in the Country.
The Vice President briefed the President on the mechanisms his Cluster is undertaking to Fastrack the construction project of the Juba-Rumbek road.
He said more local sub-contractors would be contracted on the road to faster speed up the Construction.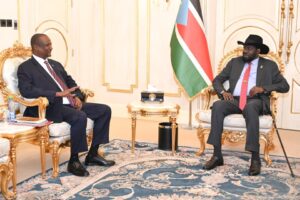 He briefed the President on the progress of the completion of the building designed for an Air Traffic Management (ATM) system that will enable South Sudan to control and monitor its own Airspace and traffic.
VP Taban informed the President that the Construction of the Juba-Bor road is near completion.
He further highlighted that he had invited President Kiir to launch the Construction of a feeder road from Bor to Pibor as well as the groundbreaking for the Construction of a road project linking Jonglei State Capital Bor to Gadiang, Ayod to Akobo Counties.