Mauritius: "We have a duty to inform and sensitise our family, children and peers on Gender Based Violence (GBV), and as parents, it is important to inculcate key values to our daughter and son so that they show respect to each other from their early age", stressed the Vice-Prime Minister and Minister of Education, Tertiary Education, Science and Technology, Mrs Leela Devi Dookun-Luchoomun, today, at the MITD House, Phoenix.
She was speaking at the opening of an in-house sensitisation session dedicated to the staff of her Ministry with a view to raising awareness of GBV.
In her opening remarks, the Vice Prime Minister dwelt on the importance of reflecting on the sensitive issue of GBV. She pointed out that Mauritius is a signatory of various conventions regarding women's empowerment. Thus, the need to promote a non-violent environment at school, home and the workplace was highlighted by Mrs Dookun-Luchoomun.
---
---
Violence, she added, is not only physical, but it can be in various forms while highlighting that for the working community, it can be in the form of fear, ignoring, demeaning, neglecting and underestimating.
The Vice-Prime Minister spoke of the imperative to have a proper understanding of the issue and its implications on society. She called upon the staff to have a fruitful session and to make the most of it by sharing their views.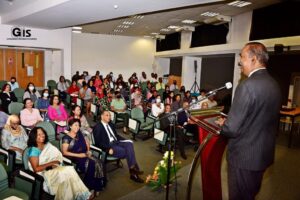 The session, conducted by the Family Welfare and Protection Officer from the Ministry of Gender Equality, Child Development and Family Welfare, Ms Sooboodoo, aimed to provide an introduction to GBV, particularly Domestic Violence; to explain services offered to GBV victims; and to explain about protection with regard to the Domestic Violence Act.