South Africa: All tourism agencies under the UThukela District Municipality were represented at the workshop that was held today in Dongala Boutique, Ladysmith. The purpose of this workshop was to promote tourism in rural areas.
Mr Thulani Sibeko from the Department of Tourism strongly encouraged people to visit various provinces in the country as the month of tourism begins. And not rush to go overseas countries. He mentioned that people should visit rural areas and embrace the beauty of the mountains.
Mrs Zanele Khoza, the Tourism Officer in UThukela District Municipality, mentioned issues they are facing when it comes to tourism as the town of Ladysmith was heavily affected by floods which disrupted tourism. She also encouraged tourists to visit UThukela District as it is a very endothelial place in terms of tourism.
Under UThukela District Municipality, there are places that attract tourists, namely, Drakensberg Mountains, Mount llenge and World Heritage Site, which has an excellent history, to mention but a few. Another important thing is that world-renowned A capella singer and five times winner of the Grammy Awards, the late Professor Joseph Shabalala, was born in Ladysmith.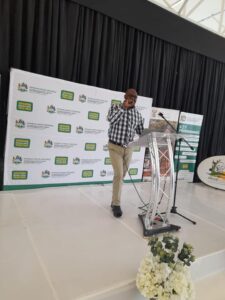 In the end, Cllr F Zuma, who represented the Speaker of UThukela District Municipality, Cllr TY Nqubuka, thanked the Department of Tourism for holding this workshop in Ladysmith as he mentioned that he learned a lot. He also confirmed that the office of the Mayor of the UThukela District would work close with the Department of Tourism to improve tourism.