Ethiopia: Ambassador Shitaye Minale, Ethiopian Ambassador to the Republic of Côte d'Ivoire, paid a courtesy call on Ambassador Hypolite Yaboue, Director General of Protocol Affairs in the Ministry of Foreign Affairs, African Integration and Diaspora Affairs of Côte d'Ivoire, at his office yesterday.
Ambassador Hypolite also granted her a warm welcome reception.
In their meeting, Ambassador Hypolite assured Ambassador Shitaye of his unreserved support and wished her a successful tour of duty in Côte d'Ivoire. He also briefed her on the preparation underway for her credential presentation.
Ambassador Shitaye, on her part, expressed her gratitude to the Government of Côte d'Ivoire for its principled support and robust solidarity with Ethiopia in the UN Human Rights Council.
Furthermore, Ambassador Shitaye accentuated the historical bilateral relations between the two countries since the 1960s and the need to take these relations to new heights. In this view, she expressed her strong commitment towards this end.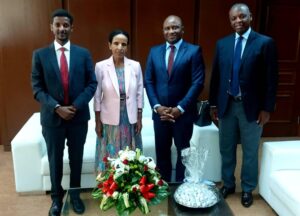 The Ambassadors underscored that Ethiopia and Côte d'Ivoire are key players in their respective sub-regions and, of course, have an untapped potential that can propel them into deeper ties, particularly in various new areas of cooperation.
Ambassador Shitaye has also briefly illuminated to Ambassador Hypolite the peace agreement reached recently between the Government of Ethiopia and the TPLF and underscored the high-time importance of the maxim of 'African Solutions for African Problems.
Ambassador Shitaye is expected to present her copies of credentials to the Ministry of Foreign Affairs, African Integration and Diaspora Affairs of the Republic of Côte d'Ivoire and hold discussions with various Ivorian line ministries in the coming week.