Anyone could perform singing as it is an art, but singing the same song in 16 different languages is not everybody's cup of tea. It is an extraordinary talent anyone cannot have, especially those who do not belong to India, don't have an Indian mother tongue and don't have any parental history or history attached to India.
"Anita Lerche" basically hails from Denmark. She came to India to spend the summer holidays exploring Indian culture because she wanted to feel the Indian heritage. She first listened to the Kullu Manali folk song, district Kullu, Himachal Pradesh, during her stay in "Anurag Sood orchard."
When she was travelling to Punjab with Anurag Sood, she heard the Punjabi song, "Lathe di Chadar", then she said, "that this is the music want".
She started learning Punjabi from "Master Ratan Singh Ji," as numerous Punjabi songs inspired her.
The folk song of Kullu made her mad and developed her interest in singing, and at that time, she visited Punjab with Anurag; as per her views, her primary motive behind coming to India was Punjab only. She tried to see Punjab closely.
When she came to Punjab, she heard "Heer", and when she listened to that Heer, she wanted to sing that too. She got inspired by Surinder Kaur. Even after not being from India, she felt that it was not a cakewalk for her. Still, she didn't want to give up, and she started researching each word meaning of "Heer from Denmark" just because she wanted to feel each word profoundly and when she sang that song with the whole of feelings.
She started her career in Punjab in 2006 by singing Heer. She is definitely not from India, but her father "Mogens Flemming Lerche" is also a singer and good guitarist.
However, when Lerche was seven, she started singing publicly. At 13, she was accepted as a choir in Radio Denmark and also chosen to sing in an opera for children called Lykken of Forstanden.
Dr APS Randhawa was looking forward to doing the Lashkara programme, and he met with Anurag Kashyap, where he told Mr Randhawa about Lerche. Dr Daljit directs this programme.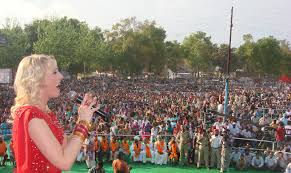 Her first Indian documentary was "Kashish Punjab di". The reason behind the launch of this documentary was to show her passion for Punjab, which was launched on Doordarshan.
After her first documentary, she launched her first album called "Sad-Ke Punjab, " written by Tajinder Harjeet and made by Harjeet Singh. APS Radhawa executed it.
Her stay in India was significantly extended. She even performed many Hindi-holy songs, especially on the occasion of Ram Navami, which is mainly the festival of Hindus and then she felt very connected with the Ram Navami psalm songs. Then she made an album and released it.
She realised her album on Bhajan.
When she comes to India after every two-three years, she always tries her best to perform on every occasion of Ram Navami.
Nowadays, she is living with her husband in the US. She made an album that she plans to release soon named "Simran". The main thing this album will be released in the Indian Embassy on the occasion of Punjab's most famous festival, "Baishakhi."
Her second album is ready and will release soon; however, dates and occasion are not confirmed yet, but it is estimated to launch in America.
She always considers Punjab as her second home, and she also got honoured by Doordarshan for her famous folk song of Punjab song "Lohri Shagna Di." That was dedicated to a girl child, and all ladies were invited to that programme.
She adopted Punjab Culture very profoundly, and when she was shooting for Doordarshan, one Dennies man wanted to propose to her in Australia. But, according to American culture, when a boy wants to propose to any girl for marriage, they secretly need to take permission from her father.
He sent an email to the Doordarshan head of sports on his account and wrote, "As you are Anita's Indian father, so I want to propose to her if you are allowing me so may I ask for her hand." Their marriage was held in Denmark.
And they are the only Indians who attended the marriage, and their picture also came in Denmark Magazine.
After attending that marriage, they also performed their Indian culture. They invited Anita and her husband to India and organised a reception party in Hoshiarpur, Punjab, on behalf of Anita's family.
Lerche said, "I am so much in love with Punjab and their tradition, and I always wanted to have an Indian wedding."
Not only in India, but she also performed in several songs, theatre and documentaries in Denmark too.
She also got several opportunities to perform in India after her launch song "Heer from Denmark." Lerche also created a Hindi song to celebrate the victory of the Indian Cricket team during the world cup in both 2007 and 2011. She also performed live in Star TV India.
In 2009, she teamed up with the rapper "Cheshire Cat" to make the song "Maahiya." Mahiya also won the World Music Track of 2009 from the Danish Music Awards.
In 2010, Lerche collaborated with Yaz Alexander in their track "Aao Ji."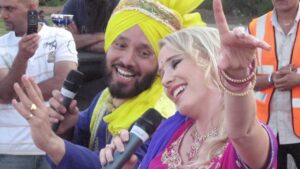 Apart from singing and working in documentaries, Lerche also does charity work. Her passion for helping people in need arises from her belief that everyone is connected. She also has a partnership with "Little Big Help".
Mahatma Gandhi is revered across Denmark as an apostle of peace and non-violence. The popular Danish singer Anita Lerche has sung 'Vaishnava Jana To' against the scenic backdrop of Copenhagen. #Gandhi150 https://t.co/ABM9t9Csgh

— Narendra Modi (@narendramodi) October 17, 2018
She also sang the song on India's Father of Nation Mahatma Gandhi, which was sung by numerous other singers in which Lerche was also one, and she represents Denmark in that song, Indian Prime Minister "Narender Modi" also tweeted for her in which he appreciated her and her voice.