Botswana: Minister of Youth, Gender, Sport and Culture Tumiso Rakgare disclosed that Botswana will proceed with the solitary bid following Namibia s withdrawal from the joint bid to co-host AFCON 2027.
Minister Rakgare pointed out that Namibia's late withdrawal left us with the dilemma of how to move on, adding that Namibia was a very close ally of Botswana and was once again kind enough to partner with us in the bid to co-host the African showpiece in 2027; but reality simply dictated otherwise.
Minister Rakgare stated that the Government of the Republic of Namibia issued a notice of termination of the joint AFCON Bid 2027 Agreement with the Government of Botswana, citing a number of reasons that made them unable to fulfil their obligations in terms of the Memorandum of Agreement between the two parties. Chief among the reasons for their withdrawal is the huge costs to be incurred on the Lead Consultant.
---
---
Minister Rakgare, however, divulged that Botswana is ready to go solo. Rakgare explained that the option of finding a potential partner for us to replace Namibia does not exist anymore, as no reasonable country will be convinced to jump on a moving vehicle at this late hour without the appreciation of full implications.
Minister Rakgare emphasized the importance of proceeding with the bidding pointing out that learning from past hosts of AFCON, an estimation of fewer than 10,000 jobs will be created over a minimum of 2 years from the capital works that would have to be undertaken.
He noted that there will be sustainable and future opportunities for communities in the maintenance and operation of Stadia and other developed infrastructure.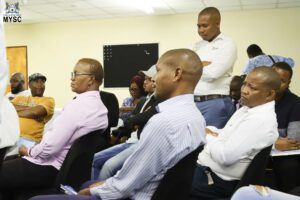 Minister Rakgare appraised that our economy will receive a huge boost, stimulating not just construction but many other sectors, such as tourism, trade and manufacturing, to name but a few. AFCON will help showcase Botswana to the rest of the world as an attractive destination for tourism and business, amongst other things.
Minister Rakgare reiterated the imperativeness and benefits of hosting AFCON 2027, that it will showcase the best of Botswana while promoting national integration and will lead to cultural, social, and sporting diversity. It will result in economic growth and social development and leave a lasting legacy for our people and country, including an empowered youth.