Botswana: The Botswana Police Service (BPS), through its social responsibility programme, donated the 80th house to Ontlametse Chominyana in Sesung village yesterday (22/09/2023).
Speaking at the official handing over of the house built by the Botswana Police College, the Acting Commissioner of Police, Solomon Mantswe, said the spirit of giving and caring for one another is embedded in Setswana culture and tradition.
He said these attributes over the years contributed immensely to the nation's peacebuilding, self-sustenance, and socio-economic development.
Mantswe noted that the programme aligns with the Vision 2036 pillar of Human and Social Development as it recognises the importance of social inclusion and equality as a key component in achieving the national dream of Prosperity for all by 2036.
He expressed his gratitude to Botswana Police College personnel, the business community, and the Sesung community for their support in completing the project.
On crime, Mantswe noted that the area of Sesung village is faced with Stock Theft and Gender Based Violence (GBV) crimes, which he said can be best dealt with by the community and police collaboration. Therefore, he pleaded with community members to report such issues for perpetrators to account for their mischievous deeds.
The Acting Commissioner added that in an effort to curb these crimes, BPS introduced Kgomo-Khumo Operation and Child-Friendly Centres to alleviate Stock Theft and GBV offences, respectively.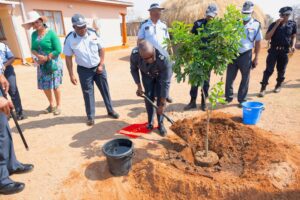 He further applauded Sesung community members for actively participating in community policing initiatives.
When welcoming the attendants, Kgosi Basimanyana Dinake of Sesung commended BPS for the spirit of giving, saying that the gesture should continue to other people who are less privileged in the community. He added that this has brought joy to his village. Kgosi Dinake pleaded with the beneficiary to take care of the house.
Giving a Project Overview, the Director of Training, Senior Assistant Commissioner of Police, Godfrey Lesego Ponchi, revealed that the two-bedroom house consisting of a sitting room, kitchen, bathroom, and toilet cost over P180,000 00.
Ponchi said the project was made possible through voluntary contributions of Intake 2 of 2022 Police Recruits, College personnel, and Sesung residents. He commended the selfless support of stakeholders who made the project a success.
For her part, the beneficiary, Ontlametse Chominyana, thanked the police for their good heart and spirit of giving back to the community. She said the house will give them dignity in the village and will help them in harsh conditions that might come.