Kenya: The Agriculture Chief Conservator of Forests (CCF) OF Kenya, Alex Lemarkoko, has this morning signed Prior Informed Consent (PIC) and Mutually Agreed Terms (MAT) documents for the access to utilization of biological genetics, derivatives resources and associated biotic and abiotic co-variate information at the Kenya Forest Service (KFS) headquarters at a brief ceremony attended by Dr Esther Kioko and Dr Beryl Bwong, both scientists from the National Museums of Kenya (NMK).
The signing of the two documents is part of the 'Strengthening Taxonomic and Ecological Research for Enhanced Biodiversity Conservation in Kenya' programme and is in compliance with the requirements of the Nagoya Protocol and the Environment Management and Coordination Act 1999 (EMCA) Legal Notice 160 which guides research involving the transfer of genetic materials and associated traditional knowledge across borders.
The research programme, which involves 18 (Eighteen) institutions, seven of which are from Kenya and eleven from China, will support Kenyan students undertaking Doctorate and Masters's studies in China. The Kenyan institutions involved in the programme include KFS, NMK, KWS, Wildlife Research Training Institute (WRTI) and the County Governments of Taita Taveta, Kwale and Makueni.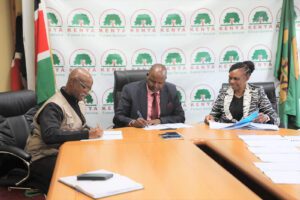 Also present during the event were the Senior Deputy Chief Conservator of Forests, Mr Peter Waweru, the Head of Biodiversity, Mr James Mwang'ombe and the CCF's PA, Dr Benjamin Kinyili.
Kenya Forest Service's official Twitter handle also posted a picture with a caption in which they gave the news and wrote, "Alex Lemarkoko has this morning signed Prior Informed Consent (PIC) and Mutually Agreed Terms (MAT) documents for the access to utilization of biological genetics, derivatives resources."
Further, they asserted, "11 from China will support Kenyan students undertaking Doctorate & Masters studies in China. Kenyan institutions involved in the programme include:
Kenya Forest

Museum of Kenya

Kenya KwsKenya

WRITIKenya

OurKwaleCounty

OfficialMakueni