South Africa: The Premier of the Northern Cape, Dr Zamani Saul, is currently leading a delegation to India which includes the MEC for the Department of Health, Mr Maruping Lekwene, the MEC for the Department of Finance, Economic Development and Tourism, Mr Abraham Vosloo, the Exe55cutive Mayor of the Namakwa District, Mr Mervin Cloete and the Mayor for the Khai Ma Municipality, Ms Estelle Cloete.
The government accepted an invitation from the Executive Director and Chief Financial Officer of Vedanta Zinc International (VZI), Mr Pushpender Singla, to visit the Mine as well as Balco Medical Centre.
Today the delegation visited the centre, a state-of-the-art cancer centre situated in Raipur, India. Balco Medical Centre is owned and run by Vedanta Resources as part of its corporate social investment in the country.
---
---
The visit comes about as a response to the call made by Vedanta Zinc International to donate an oncology unit to the Khai -Ma Municipal area in the Namakwa District in the Northern Cape. This forms part of Corporate Social Investment. The Mine is making it to the Province.
The mission for the day was to observe what was being done at the Balco Medical Centre so that it could be similarly executed in the Northern Cape.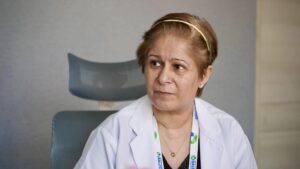 The day ended with consultations with specialists in establishing and running a fully fledged oncology hospital. The delegation consulted with Unit Heads for units such as cancer awareness and prevention, radiation oncology setup, pediatric oncology, infection control, and surgical oncology deliverables, to name a few.
The oncology unit planned for the Northern Cape is still in its conceptual phase, and progress will emanate post this visit.
The Northern Cape is open for investments and reiterates the stance that it is only through social compacts like these that we can ensure quality public healthcare.