South Africa: The Department congratulates Dr Dephney Leumang Nonyane for her academic achievements and contribution to education delivery in the Province.
Dr Nonyane is based at Chief Jerry Secondary School in Gert Sibande District and has brought excellence to the school to benefit learners and the school community.
Her mission is to profitably transfer expertise, academic skills, inspiration and scholarly research to the learners of Mooiplaas; she brought in globally recognised skills, knowledge, values and attitude relevant to take learners to greater heights.
She has, over the years, put her educational experience to great effect by helping to empower Chief Jerry Nkosi Secondary School community members and her colleagues with a distinct advantage to critically apply theories, content knowledge and methods to address fundamental learning outcomes.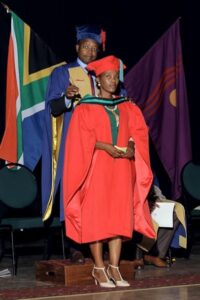 She obtained a Bachelor of Arts in 1995 at the University of Limpopo, Higher Education Diploma in 1996, B.Ed (Hons) in (1997).
Her Dissertation was-The impact of guidance and counselling on the attitudes and academic performance of first-year undergraduates with reference to the University of the North.
Post Graduate Diploma in Public Management (2010) at Regenesys

Advanced Certificate in Mathematics FET (2007) University of the Witwatersrand

Doctorate in Educational Management (2017) University of South Africa. Her Thesis was on-The Role of School Governing Bodies in School Governance: A case study Undertaken in Gert Sibande of Mpumalanga.

Counselling Certificate (2001) University of the North

Aptitude for School Beginners (1997) Human Science Research Group

Scholastic Aptitude Test Battery (1996) Human Science Research Council

Assessor and Moderator (2009) ETDP-SETA

Reading Across the Curriculum (2013) Macmillan Teacher Campus
"I believe in perseverance. Perseverance helps you grow and reach your full potential. You gain more self-confidence and strength when you persevere through difficult times. Perseverance turns your failures into learning opportunities," she said of her philosophy in life", She said.
MEC for Mpumalanga also praised Halala Dr Nonyane and said, "you done a great job and work and achievements."