South Africa: The Mpumalanga Department of Education, in collaboration with the Department of Culture, Sports and Recreation and the Mpumalanga School Sports Organization, celebrated the Provincial under 17 Volleyball boys and girls Teams yesterday at Laerskool Kanonkop in Steve Tshwete.
This honour follows their achievement after obtaining gold medals at the National Schools Championships held at Stellenbosch University Sports Ground in the Western Cape early this year.
They are worthy of being called heroes and heroines of the Place of the Rising Sun since they represented the Province outstandingly.
According to the MEC of the Mpumalanga Department of Education, "It is in times like these that we have to give credit to where credit is due. Coming from a humble background, you have shown determination and character to follow your dreams, and at that, you have outdone yourselves."
Furthermore, he added by saying that "You are true champions who inspire us every day, and we are looking up to your inspiration to have our better days."
A lot of youngsters and adults are thrilled and are looking at you as the best that our Province has produced and a typical example to model. As champions, it is now required of you to conduct yourselves in the best way possible on and off the field," MEC Majuba.
In the Nguni language, the adage, "Inkunzi isematholeni" rightly sums up the potential that these are champions.
The Province is hopeful that the future is bright for these learners as sports people and future champions for the country.
Yesterday, the Department extended its sincere appreciation for the concession granted to the 1127 Grade 12 learners to write the Mathematics and Mathematical Literacy Paper 2, which they missed due to a community protest in Emalahleni.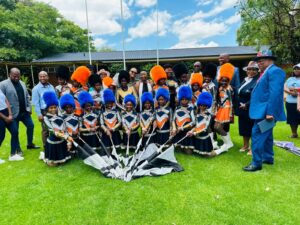 The learners are scheduled to write the above-mentioned papers on Thursday, 08 December 2022, from 09H00.
The MEC for Education, Mr Bonakele Majuba, welcomed the decision and is urging the candidates to start with preparations for these examinations.
He further requested communities to ensure favourable conditions for education to thrive in the Province and to allow these learners to write their examinations without disturbances.
"We have all the reasons to be encouraged by this concession, and we wish that all affected candidates could take advantage of this opportunity, said MEC Majuba.
Had it not been for this consideration, candidates were going to write this paper in May/June 2023. We, therefore, extend our sincere appreciation to the leadership of the Department of Basic Education for their foresight, visionary leadership and patriotic gesture," he said.
Image credit: Mpumalanga dept Facebook page