South Africa: The MEC for Education, Mr Bonakele Majuba, accompanied by the MEC for Agriculture, Rural Development, Land and Environmental Affairs, Ms Busi Shiba and the Deputy Minister for Tourism, Mr Fish Mahlalela, led the commemoration of the Mpumalanga Provincial Arbor Day at Mpuluzi High School in Chief Albert Luthuli Local Municipality this morning.
This was part of the Programme initiated by the Department of Agriculture, Land and Environmental Affairs to plant trees, flowers and vegetables in schools and households within the Province.
---
---
The two MECs and the Deputy Minister handed over vegetable plants and planted trees at the Mpuluzi High School and neighbouring households as a practical gesture of sustainable environmental management.
MEC Majuba was very much excited about this, and he extended his appreciation to all the roleplayers:
"We join the people of the world during September Month, also known as Heritage Month, in celebration of Arbor Week to remind one another, our learners in particular, of the importance of nature conservation.
As we celebrate this day, we need to do well to focus on planting indigenous trees, which include some of the oldest, largest and culturally significant trees that form part of our heritage.
This is an opportune time to plant trees to beautify our schools as a practical and symbolic gesture of sustainable environmental management.
The celebration of Arbor week presents us with an opportunity to be involved in "greening" our schools. It is, therefore, important for the school communities to join hands with us in this endeavour.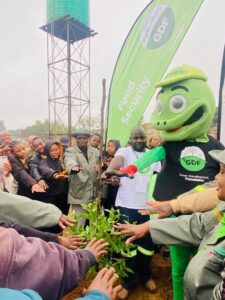 As a Department, we embarked on the Rhandza Xikolo Xa Wena Campaign to conscientise and encourage communities to take ownership of their respective schools, keep them clean and protect them.
This campaign culminates in the awarding of the Cleanest School in the Province," he said.