South Africa: The Department of Social Development of Free State, Families directorate, in partnership with Setshabelo Social Work Services, Commemorated International Day of Families under the theme demographics and families.
The day was commemorated by recognising and issuing certificates to participants who have finished the Families Matter Programme (FMP) in Thabanchu, Free State.
International Day of Families is observed annually with a different theme each year. The goal of the Families Matter Programme is to reduce sexual risk behaviour among adolescents by engaging parents in the delivery of primary prevention messages to their children and increasing awareness and protective strategies against child sexual abuse and harmful gender norms that may lead to violence.
A few participants of the programme shared their stories and how the Families Matter Programme helped and uplifted them. They shared words of encouragement and hope with the audience.
Mme Mookho Shikwambana, the Social Work Policy Developer -HIV and AIDS in the Specialist services unit, explained the services that are rendered through this programme, such as Boys and Men championing Change, Chommy, Yolo etc.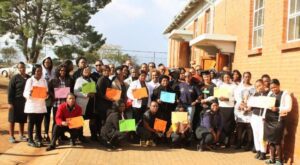 She also explained the objectives of FMP, which are as follows:
Encouraging general parenting that increases the likelihood that children will not engage in risky sexual behaviours;

Improving parents/caregivers' ability to communicate effectively with their children about sex-related topics and sexual risk reduction;

Raising awareness about the sexual risks faced by many adolescents, including risks of child sexual abuse and gender-based violence, etc.
The event was also graced by entertainment through singing and performing of drama by some of the programme participants. Their performance was based on educating the audience about the risks of HIV and how it affects families within communities.
Image credit: Free State Facebook page