South Africa: A day before Free State Premier Dukwana Mxolisi delivers his maiden Budget Vote Speech 2023/24 at Teto Secondary School in Thabong, Welkom, the Premier is meeting all Unemployed International Graduates from across the province at the Ferdie Meyer Hall in Matjhabeng, yesterday on 04 May 2023.
Unemployment is one of the fundamental injunctions made in the Premier's 2023 State of the Province Address (SOPA23) held in Mangaung, Bloemfontein. One of the commitments made by the Premier was to create a pool of job opportunities in the current financial year. For this to happen, it is of paramount importance that the massive investment made by the province in education over the years must begin to yield rewards.
The Premier made a clarion call for both the public sector and the private sector to begin to partner and address this national challenge of unemployment.
---
---
Yesterday's dialogue was a solutions-finding engagement aimed at ensuring that divergent skills that international students acquired are put to good use to grow the economy of the Free State. The provincial government noted the many challenges that confront international graduates, amongst others; business funding, outstanding fees, issues of certification, SAQA accreditation, experiential training and unemployment.
"We cannot continue to lament on our challenges; our primary focus must be to build a Free State that works. And this type of province must be led and inspired by a knowledgeable, educated and unselfish generation. Therefore, this gathering must be understood properly as intellectual engagement breaming with ideas and solutions to challenges confronting this lovely province with so much potential. Indeed, your problems are real and cannot be shelved, said Premier.
However, we need a paradigm shift if we are to do anything out of the ordinary, which is what our situation requires. We need to be obsessed with the future and breaking new frontiers in development and innovation. Unemployment is a societal challenge confronting all of us, and it is upon us to engage and contribute answers to the questions 'how can we address unemployment' and 'whose responsibility is it to find solutions'" said Premier Dukwana Mxolisi addressing International Graduates.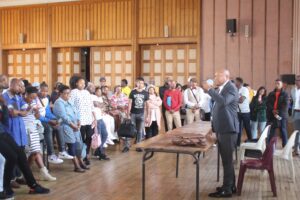 Following a progressive and fruitful engagement with international graduates, the Premier, together with MEC for Sports Arts, Culture and Recreation, Limakatso Mahasa, met with local artists. The engagement sought to bridge the prevailing gap between the creative sector and the government.
Premier Dukwana conceded that there had not been adequate support to the sector and that a lot of development is urgently needed. While appreciating government's developmental role in the creative sector, the Premier emphasized the need for the sector to be self-sufficient.
"The creative sector must play a cardinal role in the development of our economy, but for that to happen, the sector itself needs to begin to see a future where that is a reality. Working together, we need to think innovatively outside self-interest. We need to broaden our world view and begin to see the sector as a job creator rather than depending on handouts" Premier Dukwana Mxolisi.