Free State Provincial Government has convened a two-day Lekgotla at Bloem Spa in Bloemfontein. The Lekgotla is a preparatory strategic management planning engagement for the 2023/24 State of the Province Address taking place on 28 February 2023.
The major business of the Lekgotla is to take stock of the service delivery progress in relation to the set objectives. The meeting will undertake a critical assessment of the government implementation programme across the different spheres of government.
Addressing the Lekgotla, Premier Sisi Ntombela reflected on various service delivery achievements and also identified areas of weakness that require urgent strengthening.
The Premier also called on Lekgotla to move with speed in dispensing services for the people. An area of serious concern sighted by the Premier was the thorny issue of underspending within various departments.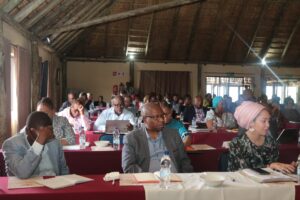 Here are some of the achievements highlighted by the Lekgotla:
Job opportunities have been created as indicated by the declining official unemployment rate in the province, from 38% in the Third Quarter of 2021 to 33.8% in the Third Quarter of 2022
Twenty-five major infrastructure projects have been registered with Infrastructure South Africa for assessment, preparation, funding and implementation consideration in the province.
The estimated R1.7 trillion Virginia Gas Project by Renergen will significantly change the economic fortunes of the province. We are proud that 93.6 percent of households in the province have access to tap water and 86.3% with improved sanitation.
Households with access to electricity increased from 90.7% in 2020 to 92.1 percent in 2021, and our province is the third in the country, with 7.1% of households with the internet at home
The number one spot as the leading province in the country with an 88.5% Grade 12 pass rate is still being held. From 2009 to 2022, one thousand, two hundred and twenty-five international and ten thousand nine hundred and eighty-eight local bursaries were awarded to young people.
Since 2019, four thousand three hundred and eighty-nine youths have been offered internships, learnerships, apprenticeships, work-integrated learning, and artisan development opportunities
The work with the Central University of Technology to support innovation through the Innovation Hub is on track as demonstrated by the second 4th Industrial Revolution Summit hosted jointly. 
Of the sixty-five thousand, seven hundred and ninety-six public servants in the Provincial Government, forty-three thousand, nine hundred and thirty-seven are women.
Also, the support to municipalities has been intensified. In order to repair the ailing financial status of our municipalities, a number of interventions have been put together said Premier Ntombela.