Kenya: The Chief Conservator of Forests (CCF) yesterday hosted the Kenya Forest Service (KFS) Board of Directors yesterday led by the Chairman, Job Chirchir when they visited the recruits currently undergoing field craft and tactics training at the Soysambu Ranch in Nakuru County in order for them to appreciate the paramilitary training programme and assess their progress in preparation for the pass-out ceremony that is planned for October.
The KFS Board of Directors had played a leading role in facilitating and enabling the recruitment and training of the biggest cohort of Forest Rangers in the History of KFS, including when we were a department.
The CCF appreciated the Board for showing genuine concern for the training of the recruits and always ensuring that their welfare and that of the instructors are catered for.
The Board was treated to high levels of tactical demonstrations in forest protection by the recruits who are being exclusively trained by KFS instructors. This is a departure from the past, where KFS sought assistance from sister agencies, including the military. This shows that KFS has come of age in building its own capacity in training forest law enforcement personnel.
The Chairman and his Board thanked the instructors for their hard work in moulding the young men and women into dependable forest rangers who will help push forward the government's agenda of increasing the country's forest cover to beyond 30% by the year 2032. He committed the Board's full support in making sure that they are facilitated to carry out their mandate.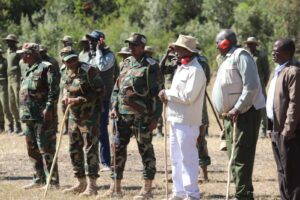 The Chairman and the CCF also took the opportunity to thank the management of Soysambu Ranch for allowing KFS to use their facility for training purposes, noting that they had always extended a helping hand to KFS when requested.
Other Board members who were present included Vice Chairman Zakayo Maina, Isabella Kogei, Ahmed Mohammed, Peter Leitoro and Gerald Mwangi. Also present were the Acting Commandant, David Chege; the Deputy Commandant Mr. Wilson Leboo, the Forest Law Enforcement Academy Commanding Officer SSP Appolinary Mwandigha and the Acting Principal Legal Officer, Laura Yego among other officers.